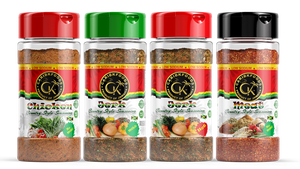 Become a Jerk Master!
Grilling will never be the same with our Jerk Bundle. Jerk is a style of cooking native to Jamaica. The method of cooking is done over an open flame, in the oven, or on the grill. Mix these 4 blends to give your grilling experience the true taste of Jamaica.
Jerk bundle
I was really expecting more Jerk flavors in the bundle. However the seasonings were great added flavor and aroma.