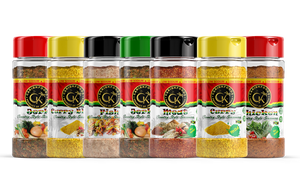 Get all 7!
The Ck Family Bundle gives you the best price for all our spices. Elevate your dishes with low sodium blends that satisfy your taste buds. Use our blend on Chicken, Beef, Lamb, Goat, Fish, or Veggies.
Awesome Products!!! They are a must have!!!
The Best Kosher Spices Ever!!
These spices are are what gives my food that extra special touch! The seasonings are krafted with Love and Blessings from Above!
They're a must have for anyone seeking fine safe ingredients!
MUST HAVE!!
I love all of their spices and the fact that the sodium is low.
Excellent seasonings and taste.
I'm sold on their products!
Specially fine blend
The texture and blend of the seasonings are well crafted. They dissolve very flavorful in any food dish. Made with excellent ingredients is the icing on the cake!
I Love the seasonings!! The spices are well blended and adds that spice to vegetables and meats and it's low in sodium which is what caught my attention! Awesome Product!