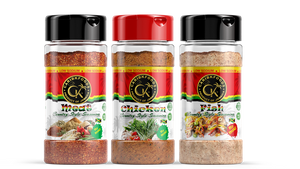 Just Right for Everyday Use!
The Everyday Bundle is just the right low Sodium blend for everyday use. We packaged our top three selling blends to help you add the flavor of the Caribbean to your favorite dish. We paired the Chicken, Meat, and Fish Seasoning to deliver the taste of the Islands!
Flavorful Taste of the Islands
I received my Carribean Kitchen seasoning i must say I am very pleased!! The flavors are amazing, you can taste that they are made from quality ingredients, not to mention they are all low in sodium and contains no MSG. Happy Customer
Forever customer
My all time favorite seasonings! Ever since the very first time I tried these seasonings I've been buying them ever since. These are a must have staple in my household. Products are affordable and shipping is fast. Love, love, love thank you for your products!
Great Seasonings
I love your products. No complaints.
Yummy Here and Yummy There
These seasonings are very tasty when adding them to a variety of foods. I purchased 4 seasonings but have only used 2 and I have been very pleased thus far.
Nice seasonings but...
Seasonings are flavorful but I think they have too much pepper. Can be overpowering if you use too much seasoning at a time especially if you are someone who doesn't love spicy food. Overall I would recommend these seasonings besides that fact. I also love the fact that they are gluten free and low sodium. Shipping was also very fast and my items came packed neatly. Thank you will order again in the future.